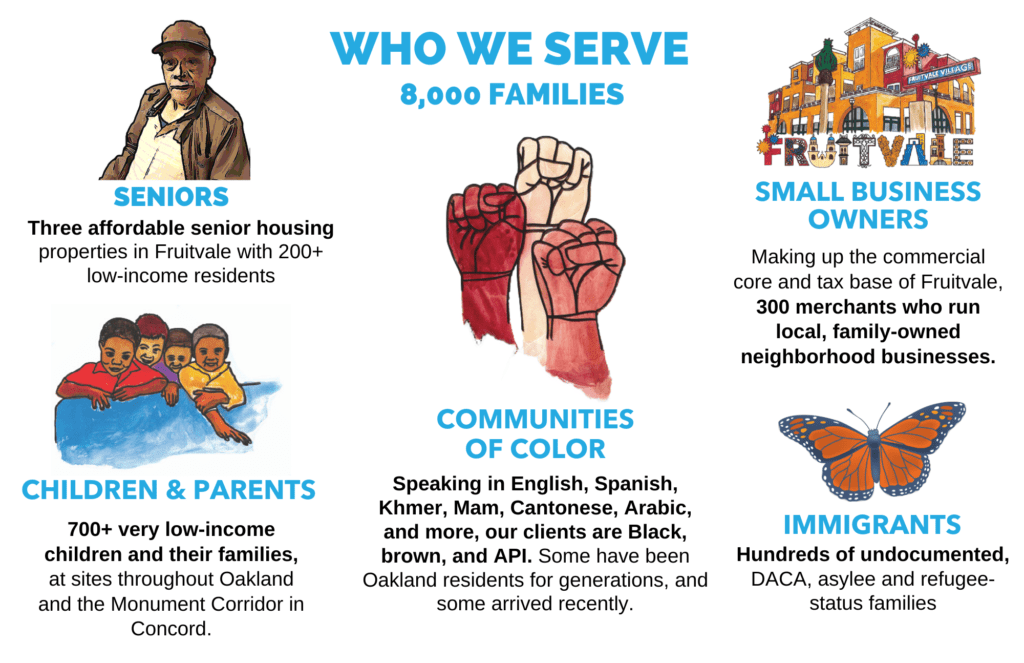 The Unity Council is a non-profit Social Equity Development Corporation with over 50 years of history in the Fruitvale neighborhood of Oakland. Our mission is to promote social equity and improve quality of life by building vibrant communities where everyone can work, learn, and thrive.
Our programs aim to provide the community with the tools, knowledge, and resources to transform their lives and ultimately achieve their long-term educational, career, and financial goals. These holistic programs and services reach more than 8,000 individuals and families annually in five languages. Programs include: early childhood education, youth mentorship and leadership development, employment services, career readiness training, housing and financial stability, senior citizen services, affordable housing and neighborhood development, and arts and cultural events. The Unity Council employs a diverse workforce of more than 308 people who reflect the linguistic, cultural, and ethnic identity of the communities we serve. Our work expands beyond the Fruitvale district and now reaches across Oakland and into Concord. See the map of our program locations: Where We Work.
Over time, The Unity Council has invested over 100 million dollars in community assets, including affordable housing and community benefit developments like the Fruitvale Transit Village—a nationally recognized transit-oriented development project. Other real estate and small business assistance activities include:
The Unity Council is the umbrella organization of several related subsidiaries: Peralta Service Corporation, a social enterprise and job-training program; Fruitvale Development Corporation, for real estate development and management; and Casitas de Hayward, for the management of our three low-income senior HUD properties.
History

Established at the height of the US Civil Rights Movement, The Spanish Speaking Unity Council of Alameda County—known today as The Unity Council—was a commitment by local community leaders who wanted to advance a substantive representation of Latinos in political and policy decisions in Oakland and the surrounding communities. Founded as a 501(c)(3) in 1967, the organization operated the first Spanish-language focused employment center in Oakland and served as an anchor response to President Lyndon B. Johnson's War on Poverty.
Led by Founding Executive Director Arabella Martinez, The Unity Council grew to address the most challenging needs of the Fruitvale and East Oakland community: access to high-quality education, jobs, and services that tackled the chronic poverty and unemployment in the neighborhood. The goal was to build an economically vibrant, physically attractive, and livable neighborhood where all people— regardless of race or national origin—could thrive. TUC took on a significant business endeavor to attain and build community assets via real estate acquisition and management between the 1980s and 1990s. These business investments catapulted the organization to develop and build the nationally recognized transit-oriented development known as The Fruitvale Village. Today, it remains a vibrant public space in which people live and shop, and connects the Fruitvale to critical services and access to the greater Bay Area.
Shortly after opening the Fruitvale Transit Village in 2004, Gilda Gonzalez—a veteran in Oakland public policy and government—became the CEO of The Unity Council and led the organization through a national economic crisis. In fact, during this tumultuous time, TUC was able to expand its youth services, including the creation of the Latino Men and Boys Program. The Children and Family Services Division also grew, adding support services to teen parents and medically fragile infants. In 2013, Chris Iglesias assumed the role of Chief Executive Officer. Challenged by financial woes, Iglesias, alongside the Board of Directors and Executive Leadership, led a transparent dialogue with corporate, philanthropic and civic leaders that materialized into significant financial opportunity, allowed the organization to streamline operations and right-size budgets. Today, the executive leaders continue to advance a sustainable financial and programmatic model in support of The Unity Council's Vision and Mission.