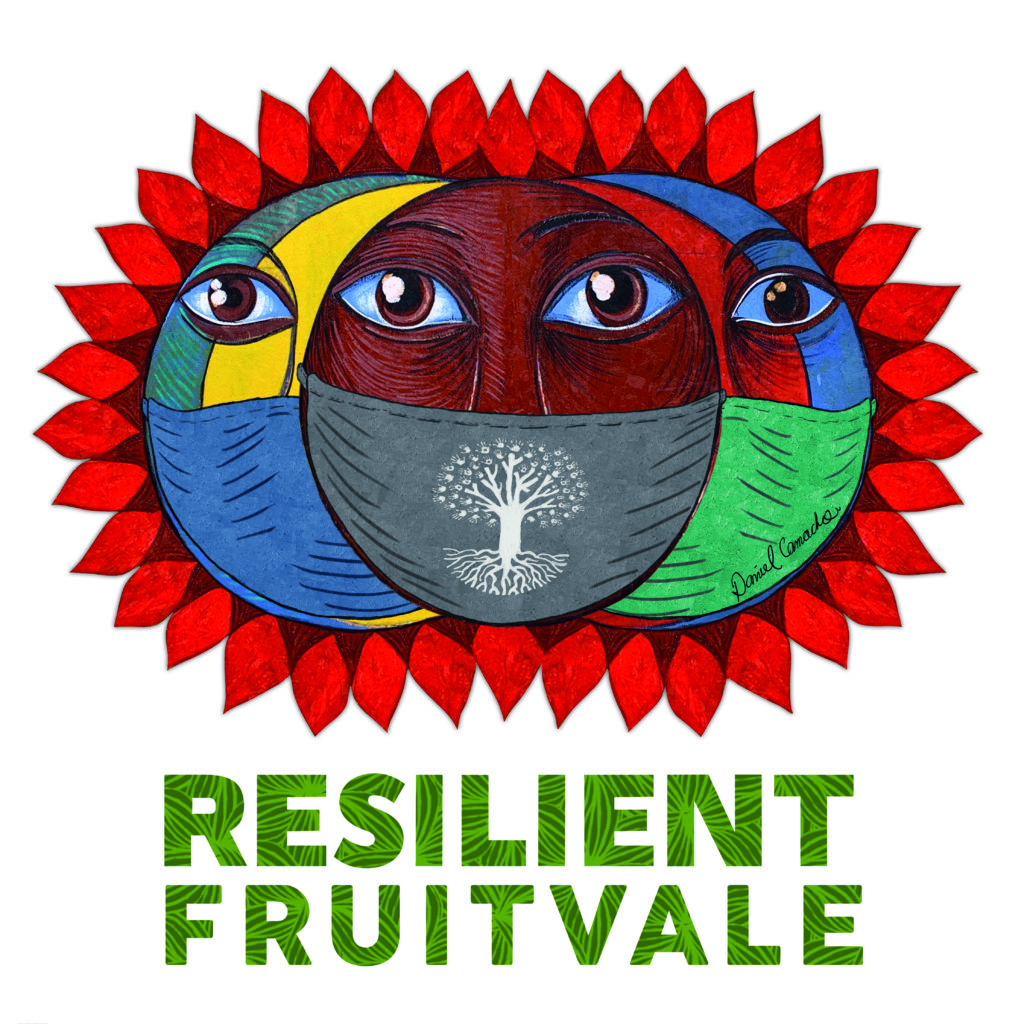 Established in 2017, The Resilient Fruitvale Collaborative aims to reinforce resiliency through community-led plans designed to prepare the Fruitvale neighborhood in building and executing a collective and compassionate response to natural or man-made disasters.
The need for such a collaboration became evident as the Covid-19 pandemic spread. Throughout 2020, the Collaborative became a lifeline for tens of thousands of East Bay low-income families who depend on member organizations for healthcare, food, emergency financial support, information, and resources. Together, Resilient Fruitvale organizations have served over 500,000 people since the beginning of the pandemic.
As the Covid-19 delta variant increases cases in California, the Resilient Fruitvale Collaborative is using its collective power to advocate for funding to continue to provide much-needed safety net services to low-income families and people of color who have been most impacted by the health and economic effects of the pandemic. Recent advocacy efforts include a $40 Million budget request to Alameda County to support a community-led Covid-19 response and recovery plan to:
Continue first responder efforts towards 1) food insecurity, 2) health and wellness services, 3) emergency economic relief/development, and 4) outreach and education
Cover unfunded costs associated with our significant contributions to preserve public health for Black, Indigenous, People of Color (BIPOC), low-income, essential workers and immigrant communities; and
Fund real economic and health recovery for the communities we serve, which continue to suffer the effects of decades of institutionalized racism, redlining, and government disinvestment.
To learn more about the Resilient Fruitvale Collaborative email development@unitycouncil.org.
Collaborative Members
Resilient Fruitvale Campaigns
The Resilient Fruitvale collaborative partnered with OUSD, Alameda County Public Health Department (ACPHD), Oakland Public Library, and UCSF to create a "Test and Respond" campaign: Sanando Juntos: Fruitvale. This campaign helped to gather data that highlights the pressing needs in our community for targeted public health outreach; more COVID-19 testing and contact tracing; as well as economic relief for food, housing, and income replacement assistance. Knowing this, Resilient Fruitvale will build on the results of the Sanando Juntos campaign by focusing its efforts on the emergency preparedness of the Fruitvale community. This will be done with the immediate goal of addressing the pressing needs of the community during the pandemic; as identified by the Sanando Juntos campaign, in a collaborative and strategic manner. Read the Sanando Juntos: Fruitvale Study Executive Summary.
Now armed with the vaccine, we launched the "Por mi, por ti, por Fruitvale / For me, for you, for Fruitvale" outreach campaign that includes a social media tool kit with public service announcements and graphics catered to empower Fruitvale district communities to understand the risks of Covid-19 and dispel myths that deter residents from getting vaccinated. The social media tool kit includes text you can copy and paste directly into your posts. Click here to learn more!
In December 2016, the Fruitvale community was shaken by the terrible Ghost Ship fire tragedy that took the lives of 36 artists, musicians, and beloved community members. Our neighborhood came together, as we always do, and supported the residents and organizations that were impacted by this tragedy. To commemorate the one-year anniversary of this tragedy, and with disasters like earthquakes, hurricanes, and mass shootings devastating communities throughout the U.S. and world, a cohort of local and regional agencies came together and formed the Resilient Fruitvale Initiative, a cross-sector initiative that advances the resilience of Fruitvale at the individual, organizational, and community levels. The goal is to streamline and strengthen access to resources and expertise for local leaders, so we can all do our part to protect our community, and its vulnerable residents, for years to come.
As a result, the collaboration launched the 2018 Resilient Fruitvale Action Plan at a Block Party and community celebration at Fruitvale Village. Visitors could learn more about each partners' role in this work and the services they provide to the community, as well as learn what they should do in case of an emergency.
Read the Resilience Action Plan