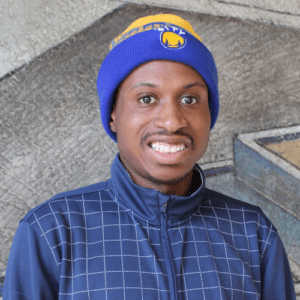 At the time of his first visit at The Unity Council, 22-year-old Taki had very limited work experience and he was a caregiver for a loved one. Taki needed to earn a livable wage to support himself and his loved one, but he lack experience, job references, and needed support developing vital skills.
After meeting with a Career and Financial Coach, Taki joined the Success, Training, Education, Planning (STEP) program. STEP's program consists of three phases: a three-week job training, job placement/ internship for 160 hours and hiring completion.
Job training and skill building was all new to Taki, so he was instantly relieved that it was a relaxed environment, everyone, including his Career and Financial Coach Ulises Magallon was very friendly, and the curriculum wasn't too intense. In his first phase, Taki learned the importance of punctuality, dressing professionally, how to treat customers with respect and team building. "I also learned how to communicate effectively with my boss and how to handle myself during time of stress," said Taki. "Everything learned was valuable and I felt like I didn't waste my time. "
Once he completed the training, Taki left the classroom-style training with meaningful job skills, friends who also attended the program, and the confidence to thrive at his internship. Taki was placed at Tech Exchange, a local nonprofit that supports families and individuals that digitally connects low-income families and individuals with refurbished computers, affordable internet, tech support and digital skills training. Through the internship, he learned how to refurbish electronics; however, his favorite part of the job was getting to know the community. He enjoyed interacting with both supporters like Mozilla who donated electronics and recipients like families who are looking for computers for the first time. One of his favorite assignments was fixing donated laptops which were later donated to students at Martin Luther King Jr. Elementary in West Oakland.
Once his internship ended in February, Taki was offered a contract full-time job with the organization. He was pleased with the experience through the STEP program; including landing his dream job and providing the skills that will keep him there. He looks forward to seeing his first full-time paycheck and at the end of the year filing taxes for the first time at our Volunteer Income Tax Assistance (VITA).
"This program changed my life," said Taki. "It was one of the most productive programs that I've ever done and I don't know where I would be without the opportunity."