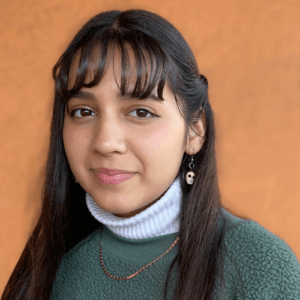 From a very young age, Citlalli, a high school junior at Skyline High School, was taught the importance of speaking for the underrepresented in her community. Before she learned to write her name or adequately use a pair of scissors, she helped her father design altares for the Fruitvale Dia de los Muertos Festival. Together, the Garcia family in their East Oakland home would create contemporary and politically-themed altars such as immigration and the separation of families near the U.S. border. It was their way to address broad-scale important issues like racial inequality and suffrage amongst the immigrant community.
Over the years, she began to experience firsthand and question discrepancies that didn't just didn't make sense to her: Why are women getting paid less than men? Why are certain racial groups treated differently than others? Though she knew it was unfair, as a young woman of color, she thought her opinions had no merit.
"I knew I had a voice, but I felt like people would shut me down and not hear me out because of my age or because I am Latina," said Citlalli.
In fall 2019, Citlalli joined the pilot cohort of the Latina Mentorship & Achievement (LMA) after hearing from teachers the success of the Latino Men & Boys (LMB), an innovative program devoted to improving academic achievement, health outcomes, leadership development, and socioeconomic learning for young men of color and their families.
Jae Maldonado, Associate Director of Community Health at The Unity Council, says young women of color are marginalized in society, so offering a program such as the LMA program offers that same encouragement and resources necessary to thrive academically, emotionally, and socially as their male peers. "LMA helps youth reclaim communities that society sees less than (women, immigrants, women of color) and build skills needed for them to have a voice and feel empowered to change society."
Citlalli calls LMA her safe space where she can learn about cultural identity, academic achievement, civic engagement, and career readiness. In the program, she didn't have to worry about her peers criticizing her, and the class gave her the confidence to be true to herself and not hold back. "Change will not happen if we don't speak up," said Citlalli. "And I finally found my voice."
One of the ways she is utilizing her voice is through artwork.  In February 2020, her design was selected to be the new LMA logo. Her image featured three powerful women of color: a Latina, an Afro-Latina, and a Muslim woman, a monarch butterfly symbolizing migration and diversity, and Cempaspuchitls as homage for her involvement in the Dia de los Muertos Festival. Citlalli wanted to design a shirt that her classmates would be proud of and best represents them. The selection of her art piece has also given her the courage to show her work on a larger scale.  LMA has partnered with the Alliance for Girls, an Oakland nonprofit that mobilizes young women to address barriers facing girls and advance systemic change to achieve equity to help raise awareness on the harassment and fear of young women and gender-expansive youth riding on Bay Area public transit. Citlalli has been involved in helping choose the name, slogans, artwork, and activities for the BARTcampaign against Sexual Harassment. On February 27th, BART board members unanimously the gender equity resolution to increase community policing and awareness, including how to report sexual harassment or assault. 
LMA Coordinator Jessica Peregrina says she has seen a significant change in Citlalli since she began the program, including as an advocate for her peers. "I have seen her grow to be a student leader who encourages and celebrates her fellow Hermanas," said Peregrina. "I am thankful for her presence in the LMA program and cannot wait to see what else she accomplishes."
Citlalli says the program has given her the power to reclaim her voice. "I love being able to share with others what I've learned from LMA," said Citlalli. "Everyone has the chance to change something, and we shouldn't wait to be an adult to be heard."