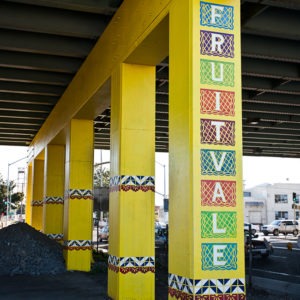 Since 1996, the Fruitvale Business Improvement District (BID) has been promoting vibrant, thriving, and safe streets along the commercial corridors of International Boulevard, Fruitvale Avenue, and Foothill Boulevard. The Fruitvale BID works directly with over 350 locally, minority-owned businesses and 259 property owners to advance economic development, culture, tourism, and commerce as well as provide a diverse array of street cleaning services and technical supports to small business owners.
The BID services are coming to an end and need renewal to continue. In return for all the services provided by the BID, property owners pay an assessment fee determined by the frontage along the BID boundaries. The Unity Council is leading the renewal process which includes petitions, a City of Oakland public hearing, and mailed ballots. The deadline for the extension of the BID is July 30th.
The pandemic has made it challenging for all of us, especially those few property owners whose assessment has increased. The BID renewal presents an opportunity to strengthen these services and improve the economic recovery of the Fruitvale District.
The Pandemic Response & Economic Recovery plan launched by the BID in 2020 has helped over 250 small business owners navigate financial resources, marketing and promotion, business management and operations support, as well as tax, accounting, HR, and legal services referrals, at no cost. At the same time, the BID kept properties along the Foothill and International corridors clean, graffiti-free, and vibrant to ensure commerce continued during the pandemic.
"This pandemic has hit the Fruitvale District particularly hard," said Chris Iglesias, CEO of The Unity Council. "We are and have been full steam since March 2020, meeting the needs in the community and supporting small businesses and commercial property owners."
Syed Alamari, property owner and business owner of Mi Ranchito Market on Foothill Boulevard says despite the few increases in property assessments, the BID is getting small businesses the support they need to weather the storm. By keeping the commercial corridors safe and thriving, the BID is creating a welcoming environment that benefits all of us. Alomari, who has been in Fruitvale since 1996 believes the BID Program is a great resource in the community.
"The Unity Council's Fruitvale BID has been there for my business," said Alamari. "We need these services to continue. We cannot let them go away."
How you can help: promote the benefits of the services provided by the BID!