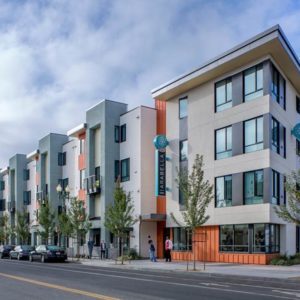 Michael lived a life of many achievements. The Oakland resident served in the U.S. Navy, graduated from UC Berkeley with his Master's degree, and held successful careers in the banking and tech industries.
But after experiencing chronic health issues, Michael, 60, was unable to work full-time. His health didn't stop his ambition; he used this opportunity to pursue one of passions, becoming a school teacher. Through this new part-time role, he earned roughly $1,000 a month, most of which was directed towards his rent.
Michael sought housing assistance in early 2019 through Operation Dignity, a local nonprofit dedicated to fighting homelessness for veterans in Alameda County. In December 2019, Michael was one of 20 veterans who received keys to an apartment at Casa Arabella, The Unity Council's affordable 94-unit transit-oriented development next to the Fruitvale BART station.
"From day one, it has been really nice living here," Michael said. "It sounded almost too good to be true that I honestly thought it was going to fall through." Michael was overjoyed to have found a place to call home and was on his way toward stability and independence.
A few months later, Michael suddenly lost his teaching job in March 2020 due to the pandemic. Concerned about his status at his new apartment, he visited The Unity Council's Fruitvale Career and Resource Center in April 2020 to receive assistance applying for Unemployment Insurance. He soon learned through our staff that he qualified for rental assistance through Keep Oakland Housed (KOH), a program that provides anti-displacement and supportive services for Oakland residents.
With the help of our staff, Michael received more than $3,400 for rent relief through KOH. He also was eligible to receive $500 in emergency rental assistance from The Unity Council's COVID-19 Resilience Fund, a response effort to address anti-displacement and food insecurity.
Michael admits had The Unity Council not helped him find these services, he planned to rent a storage unit and live in his car.
The Unity Council also assisted Michael with free groceries delivered to his apartment, a grocery store gift card, and assistance applying for medical and dental care. Michael says he was uninsured for many years prior to getting health insurance.
"Thanks to The Unity Council, I'm living a lot more comfortably," Michael said. "I was even able to get my teeth fixed and I'm no longer grinding my teeth anymore because I'm not stressed anymore."
Michael says The Unity Council is doing great work and everyone financially struggling should seek help there. "I have been able to improve my health and my financial security," Michael said. "I am grateful for every service The Unity Council offered. It has positively changed my life."