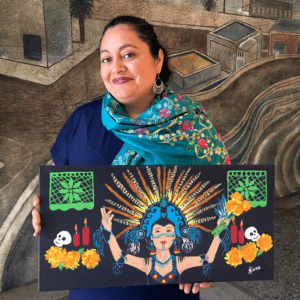 The Unity Council is proud to announce Andrea Luna as the winner of the 2019 Dia de los Muertos Festival poster art contest winner!
Andrea is an educator, mother, artist, community organizer, and activist. She first became involved in the Dia de los Muertos Festival nearly thirteen years ago as a crafts vendor; she was one of the first vendors to bring homemade sugar skulls and miniature craft altars to the festival.
The Dia de los Muertos tradition is very close to Andrea's heart. She grew up celebrating Dia de los Muertos in her native town in Oaxaca, Mexico. Every year, her family created an ofrenda for their late loved ones, was part of the procession, and visited the cemetery to decorate the graves of her ancestors.
"I started making Dia de los Muertos art to relive my childhood memories. I love making paper mache figurines, miniature altares, nichos, paper flowers, and papel picado."
Andrea's personal goal is to share Mexican culture and traditional arts and to advocate for the Latinx community.
(Scroll below to read Andrea's artist statement)
Andrea's Artist Statement
My name is Andrea Luna Bocanegra. I am an educator, mother, artist, community organizer, and activist. All these roles have helped shape me as a person. ln these challenging times where we live in a political climate that divides more than unites polarizes more than collaborates, I am committed to bringing together our communities for a common purpose to create economic and social dignity of all working people.
As the daughter of immigrants, I value equitable treatment of all human beings, undocumented or not. My experience in working within my community spans for decades – at the age of seventeen, l began translating for Spanish speaking farm workers in Salinas, California. What started as simple translations evolved into advocacy by educating them on their rights and being a voice when they were unable or afraid to speak. I am a proud third generation activist; I am following the footsteps of my grandparents and my mother, who risked their lives working alongside the Filipino community and Cesar Chavez fighting for social justice, fair labor and fair working conditions.
Mi Familia has taught me to be self-motivated, to work hard but smart, and always to speak up when there is an injustice. My uncles, who actively took part in the Chicano Movement, constantly remind me that we can be part of positive change and that we should always work to build bridges and not walls, not only within our family but also with our friends, neighbors and our communities.
As a mother to a child with a learning disability and once an educator myself, I value the importance of education. I have and will continue to advocate for quality, fair, and one-day free education for all. I believe that the return on investment on quality education means substantial gains for our communities, for it is these communities that are built by young people armed with critical thinking skills earned from a good education.
I am dedicated and passionate about giving a voice to those unable to speak for themselves. I am not afraid of speaking up for what I believe is right, especially when l know that the rights of people in my community are being compromised. While I am an independent thinker, I also bring experience in working with others who hold different views and seek a resolution and build bridges when l can.
I have been a community activist in Oakland since moving here in 2008. I work with youth in East Oakland and help elevate Spanish speaking communities to be more proactive in their communities. I have also stepped into politics in hopes of adding more diversity to the different groups and caucuses, making sure that people that look like me are being represented.