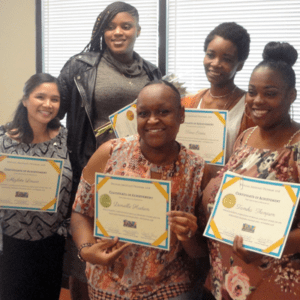 As part of The Unity Council's Community Programs Department Pathways to Health Careers initiative, we are working in collaboration with Alameda County Social Services Agency and the Castro Valley adult school to offer a tailored Medical Assistant Certificate & Internship program for CalWORKs recipients.
This 6-month pilot program is meant to increase the economic stability of low-income families by placing CalWORKs job seekers in temporary Medical Assistants and Medical Administrative Assistant positions with a local medical employer partner. Through training, professional development, mentoring, paid internships, supportive services, and networking opportunities, the pilot will help job seekers transition into permanent unsubsidized jobs with career advancement opportunities.
Eligible participants receive help paying for their classes, childcare, transportation, and uniforms. Participants also receive job search support and interview skills and can participate in a paid internship to gain experience once they receive their certificate.
"I was very happy to see their success and to see that the work we did with them had amazing results. The program offered participants the support they needed, including a math tutor when they needed additional support," said Gabriela Pingarron, Employment Services Manager at The Unity Council. "However, the best part of the program, I think, was that all the participants created a very special bond and sense of community. They understand each other's struggle and have similar goals; they became additional support to each other."
If you would like to learn more about this program contact The Unity Council's Career Center at 510-535-6101 or email careercenter@unitycouncil.org