The Unity Council cordially invites you to meet professionals in the fields of Business, Law, STEM, and Top TUC Executives. We encourage you to read about the panelists below.
When: Wednesday, October 24 at 4:00 p.m
Where: 1st-floor classroom at 1900 Fruitvale Avenue, Oakland CA 94701
Erin Patch
Erin Patch is a passionate and strategy oriented leader who has dedicated her career to developing and implementing solutions to social justice issues. As the Chief Operating Officer (COO) of The Unity Council (TUC), Patch has made it a priority to increase staff development and programs sustainability. Erin is a recognized leader with a longstanding career in the Bay Area. She started her career in affordable housing 15 years ago at Affordable Housing Associates in Berkeley. Patch is also the co-founder of a nonprofit that seeks to make assistive robotic technology widely available. Erin holds a Bachelor of Arts in Urban Studies, City Planning from San Francisco State University where she was the Assistant of the Chair of Urban Studies Department and co-authored SFSU Environmental Audit.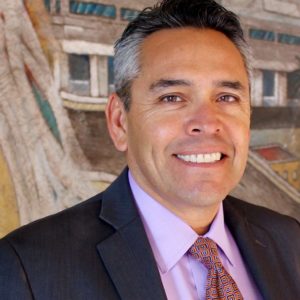 Chris Iglesias
Chris Iglesias is the Chief Executive Officer (CEO) of The Unity Council (TUC), he leads one of East Oakland's most vital community assets—Fruitvale District—through a place-based economic and intergenerational equity agenda. Prior to joining TUC, he served as San Francisco Mayor Gavin Newsom's Senior Advisor on Jobs and Contracting Programs. He also served as the Executive Director of San Francisco's Human Rights Commission and the Founding Director of CityBuild. Chris currently serves on the Job and Housing Coalition and SPUR Oakland Board, as well as on the Oakland Thrives Leadership Council. Chris holds a Bachelor's Degree in Business from San Jose State University, where he played NCAA Division I FBS Football as a wide receiver.
Albrey Brown
Albrey is the founder of Telegraph Academy, a coding boot camp that is diversifying the tech industry by providing an accessible career pipeline to people of color. He is also the Senior Program Manager, Diversity and Inclusion at Pivotal Software, Inc. Albrey has profound insight into the STEM field through a racial equity lens.
Dustin Bankston
Dustin is a member of the California State Bar and a Certified Specialist in Immigration and Nationality Law. He is an active member of the American Immigration Lawyers Association (AILA). Upon completing law school, he pursued his dream of opening Bankston Immigration Law Office. He loves serving his clients and mapping out the best immigration options available according to each individual's situation. Bankston graduated with from University of the Pacific McGeorge School of Law in Sacramento.
Oscar Zavaleta
Oscar is the founder of Montez Group Incorporated, an engineering consulting firm based in San Francisco. Oscar believes in Partnering and Quality, he has made this the foundation of his company. He focuses on results-based methods to assist clients to get the best quality projects. Oscar has worked on large-scale infrastructure projects, high-rises, airports, light rail, and residential housing in California. He started his career as an intern for the city of San Jose Materials Testing Lab and after completing his Bachelor's degree worked as a field engineer for major materials testing labs. Solid background in material led to a career involved in Quality Management and Construction Management. Oscar graduated from Santa Clara University with a Bachelor's of Science in Civil Engineering.