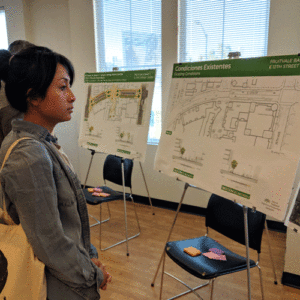 On June 18th approximately 20 people attended a community listening event to discuss the possible closure of E. 12th St. (from 33rd Ave. to 35th Ave) to automobile traffic. At the meeting, there were representatives from local businesses, homeowners/residents, La Clínica de la Raza, Fruitvale-San Antonio Senior Center, De Colores Head Start, and other community members. This project is in the preliminary planning phase, where community voices will have the most influence over this possible project.
Some issues were raised regarding how closing E. 12th from 33rd Ave to 35th Ave would affect businesses and organizations in the area. The street is extremely busy during the week for drop-off and pick-up for ARISE High School, for De Colores Head Start, and for patients at La Clínica de la Raza, so having a loading and unloading zone was very important for the group. Senior citizens arriving at the Fruitvale-San Antonio Senior Center often arrive in paratransit vehicles and need to be able to get as close as possible to the center. Two possible ideas were presented by the planning firm and City of Oakland:
12th stays open for one-way traffic entering at 33rd and exiting onto 35th.
12th is closed, except for delivery vehicles and emergency vehicles, to all traffic.
The majority of people said that parking would be the biggest issue. The plan would eliminate only 25 spaces, but those spaces are frequently used throughout the day. However, the majority of people present said that they supported the partial or full closure of the street for the safety of pedestrians and to create more public spaces in Fruitvale. "We will never solve parking problems, there will always be too few spaces, people need to change their behavior," said Maria Sanchez, a long-time resident, and Manager of the Fruitvale Business Improvement District. "There's a lot to think about, but I think it's a good idea," Said Luis Abundis, owner of Nieves Cinco de Mayo.
Your Opinion Counts
What do you think of the possible street closure? Love it? Hate it? Have a suggestion? The Department of Transportation of the City of Oakland wants to hear from you! If you would like to offer your feedback, please contact Lily Brown, Transportation Planner at lbrown@oaklandnet.com
Subscribe to our newsletter to receive information about future planning meetings.