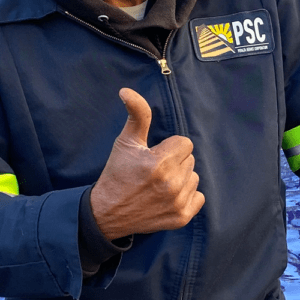 With the nation at a halt due to the COVID-19 pandemic, job seekers like Antonio are at a crossroads as businesses have closed and ceased hiring at the moment. Since January, Oakland resident Antonio has been looking high and low for new career opportunities in various sectors with no luck. But he knew one way or another, not even a government shutdown would get to his spirits – he was on a quest to bigger and better things in his life.
"I took a lot of losses in life," said 22-year-old Antonio. "I refuse to go back to where I was in life. I plan for a life of success and I needed the help to get there."
Antonio joined The Unity Council's STEP (Success, Training, Education, Planning) program in January 2020 after learning the program provides soft skills training and an internship with local businesses, all paid for by the organization. He wanted to look for a long-term job in Oakland that paid well and gave him the opportunity to grow.
"I just want something different, something real," said Antonio. "I just want to be successful. "
Through the STEP training, available for youth and young adults ages 16 – 24 years old with little to no job experience, Antonio learned the importance of punctuality, accountability, and working in a collaborative environment. During his internship phase, Antonio was placed at Tech Exchange, an Oakland nonprofit focused on closing the digital divide for residents. Through this internship, he learned more about hardware and became skilled at troubleshooting and refurbishing computers. Then COVID-19 forced the shutdown of businesses and his hopes to of finding a job was on the line – or so he thought.
The STEP team quickly pivoted their program to provide emergency assistance remotely; Career and Financial Coaches began quickly enrolling clients in state benefits such as Unemployment Services and CAL-Fresh. Additional services included wellness check-ins and workshops, referring clients to community resources, online professional development courses, and providing a list of businesses hiring at the moment.
Youth Career and Financial Coach Jessica Perez said clients like Antonio experience multiple barriers before COVID-19 such as age, soft skills, and experience. "Now they are facing different barriers because the places they were interested to apply were suddenly closed," said Perez. "Our team began tackling those barriers and doing the best we can to help our clients given the unexpected circumstances."
Tech Exchange remained open as they continued to provide tech support to the community and it was Antonio's leadership skills and tenacity that sparked the interests of two employers and landed him two job offers, Tech Exchange and Peralta Service Corporation. Seeing the unbelievable timing of these two job opportunities, he decided to pursue both because of his commitment to gain financial security.
As Antonio's coach, Perez was proud seeing his drive to make a better life for himself and his family.
"Antonio's a fighter – things haven't come easy for him," said Perez. "Money has been tight and that has caused stress on him and his family. It's these success stories during these difficult times that keep me motivated and encouraged. This is what the work I do is all about."    
Chris Iglesias, Chief Executive Officer at The Unity Council says through the shelter-in-place, career readiness programs like STEP are important now more than ever in communities like East Oakland. "The Unity Council is here for them, now and post-COVID, to get workers back into the economy safely, and to get more people to climb the first rung of a career ladder in a high-growth industry."
Antonio is thankful for the support he received from STEP because he had the motivation; he just needed the roadmap to get there. "The STEP program really did help me get back on my feet," said Antonio. "This is just the beginning."